Trail Mavens Guide | Backpacking Sky Camp, Point Reyes
This past weekend, a group of five Trail Mavens backpacked to Point Reyes' Sky Camp (check out the full trip details here). Sky Camp is overlooked among Point Reyes' backcountry campsites - you can tell because there are often Sky Camp sites remaining on recreation.gov well after all the Wildcat and Coast campsites have been booked - but all the better for the rest of us who are in the know.
Step 1 for planning a trip to Sky Camp is making a reservation. While it might not be as popular as some of the other campsites, this is Point Reyes we're talking about. The reservation window for Sky Camp (and all the other Point Reyes campsites) is exactly six months into the future: if you want a site on July 21, log on early on January 21 to book it. Today, on November 5, you can reserve any date between today and May 5.
On the day of your adventure, stop by the Bear Valley Visitor's Center first thing to pick up your permit and overnight parking pass before continuing down Limantour Road to park at the Sky Trail trailhead. The lot has a capacity of 6-7 cars, so if you've chosen to backpack on a crowded summer weekend, arrive early to snag a spot! If you can't find parking, don't worry; you can always head back to Bear Valley, park there, and hike to Sky Camp via Mount Wittenberg trail. Both routes are short - less than two miles - thought the Mount Wittenberg trail is steeper. It's 1.3 miles on Sky Trail from the parking lot to the campsite, on uphill (but wide, well-manicured) terrain.
Once you arrive at Sky, find your campsite and set up. Curious which site to select? Sites 1, 2 (group site), 3, 4, 10, and 11 have the best ocean views, but in my opinion, for a two-person trip, sites 3 and 4 are the perfect mix of seclusion/views/shade. The rest of the campsites are nestled in the trees, and while they're more spacious, they don't feature views of the water. There are two pit toilets and one potable water spigot at Sky Camp, and each campsite features a picnic table and bear box. For an aerial map of Sky Camp, click here.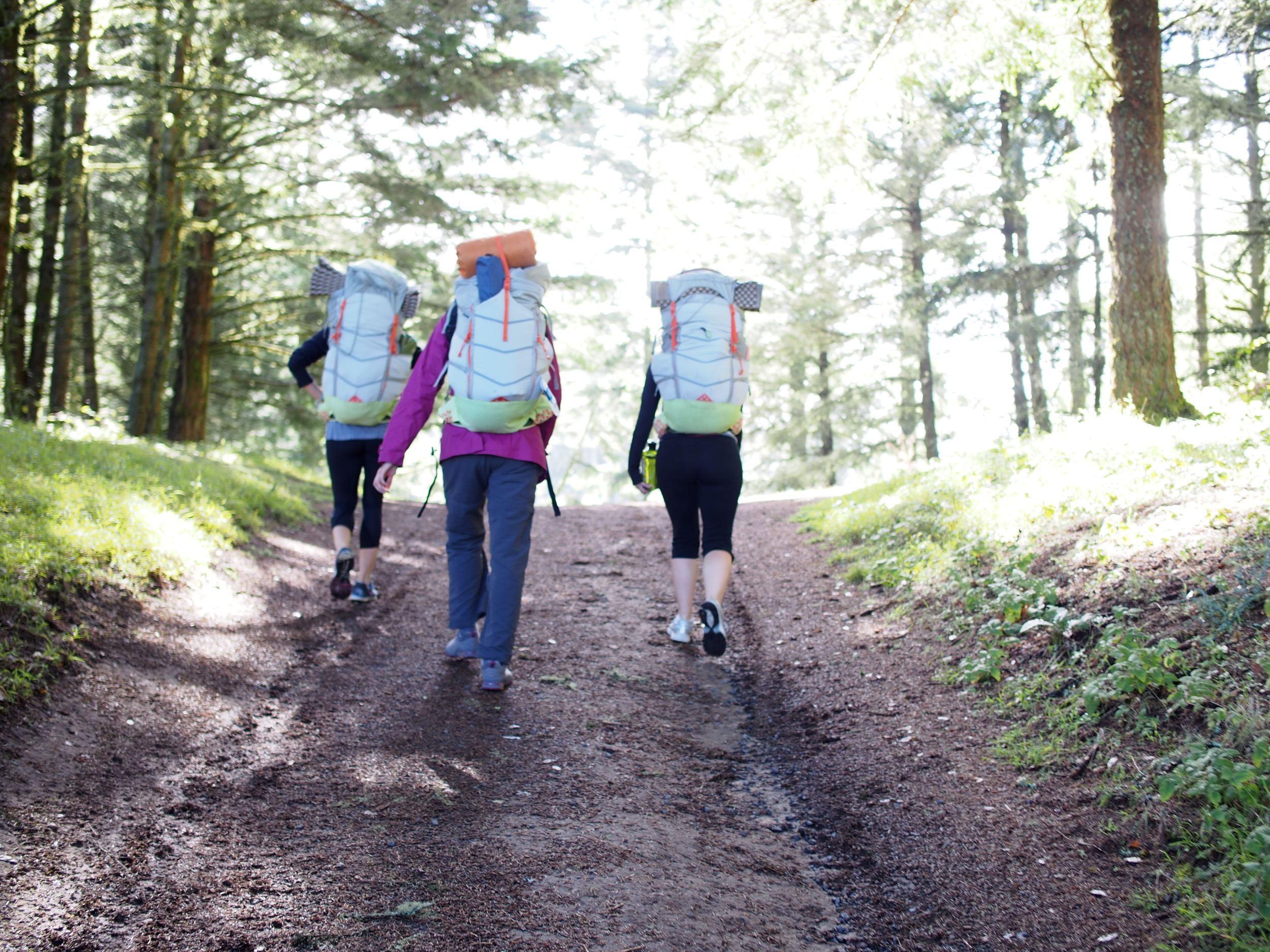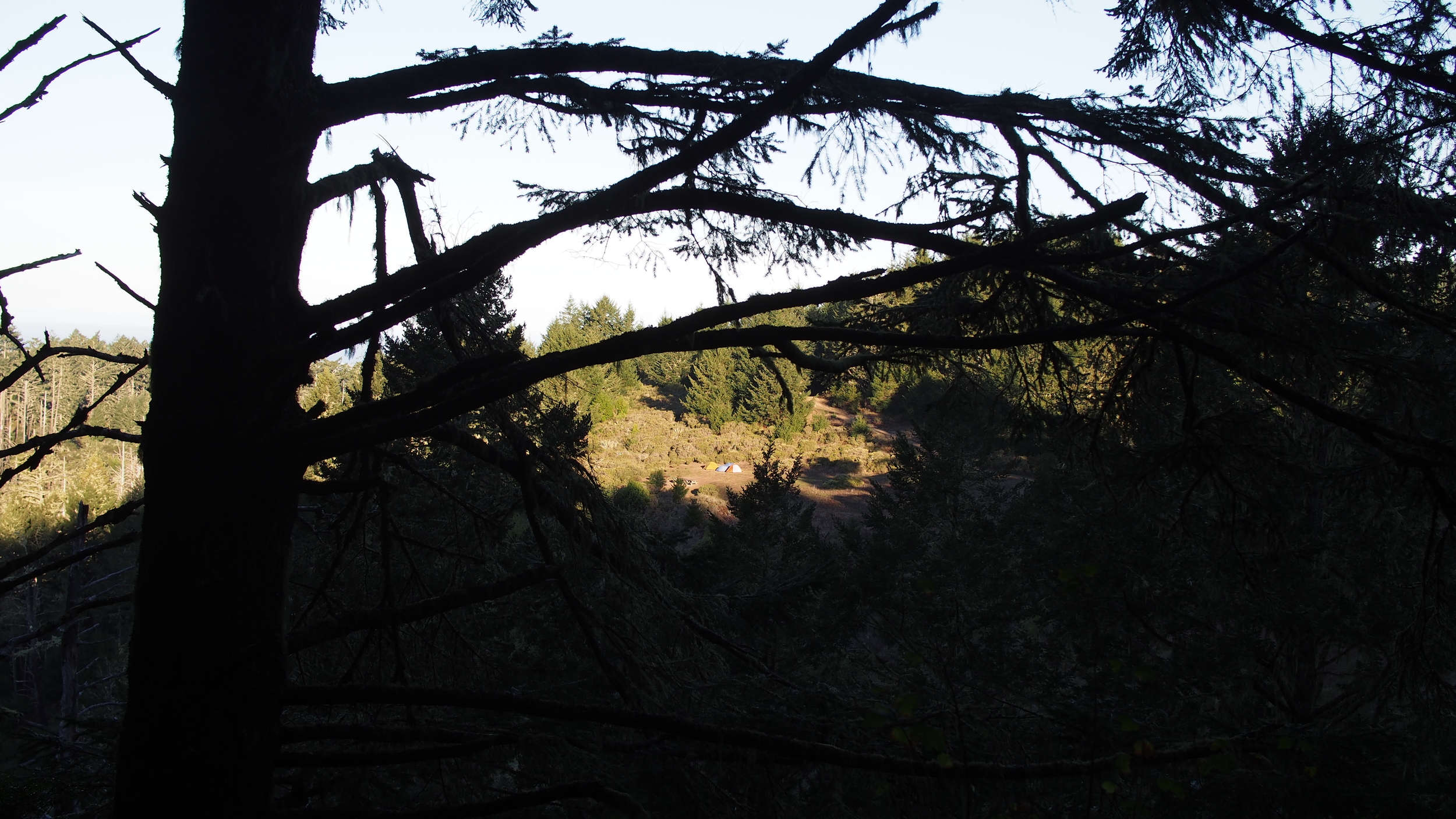 From Sky Camp, there are a multitude of hiking options, but all roads lead to the ocean. After setting up camp, we did an 7.5-mile roundtrip hike by taking Sky Trail to the Woodward Valley Trail, turning left at the ocean, and making a detour to Sculptured Beach and back. (I highly recommend this option - the Sky and Woodward Valley Trails were gorgeous!)
For a hike in the 10-13 mile range, continue along the coast to Kelham Beach and return via Sky Trail, or even push on to Arch Rock and return to Sky Camp via the Bear Valley and Baldy Trails. For a Point Reyes park map, click here.
Sky Camp is a lovely backcountry campsite, and the short hike in makes it an ideal starter trip for beginning backpackers.

Questions on planning a trip to Point Reyes? Leave them in the comments below!
SUMMARY:
Reserve campsite 3 or 4 up to six months in advance on recreation.gov.
Pick up permits at the Bear Valley Visitor Center.
Hike in via Sky Trail or Mount Wittenberg Trail.
Enjoy!